Two large pieces of work designed and drawn in photoshop. Both are available for sale.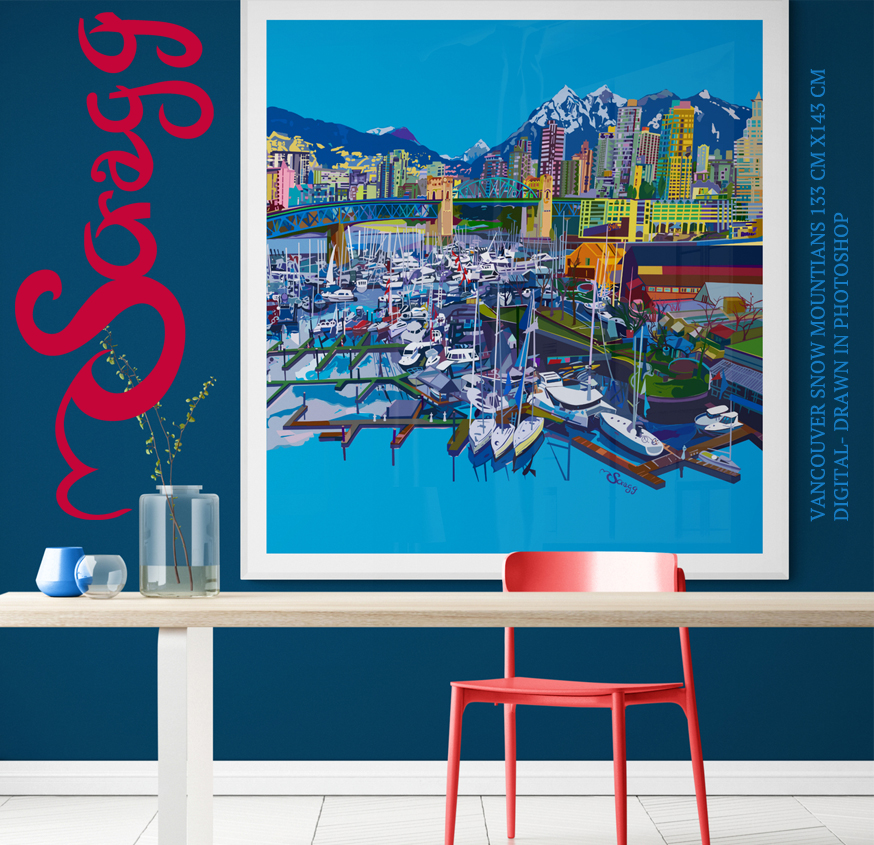 Vancouver Snow Mountains 133 cm x 143 cm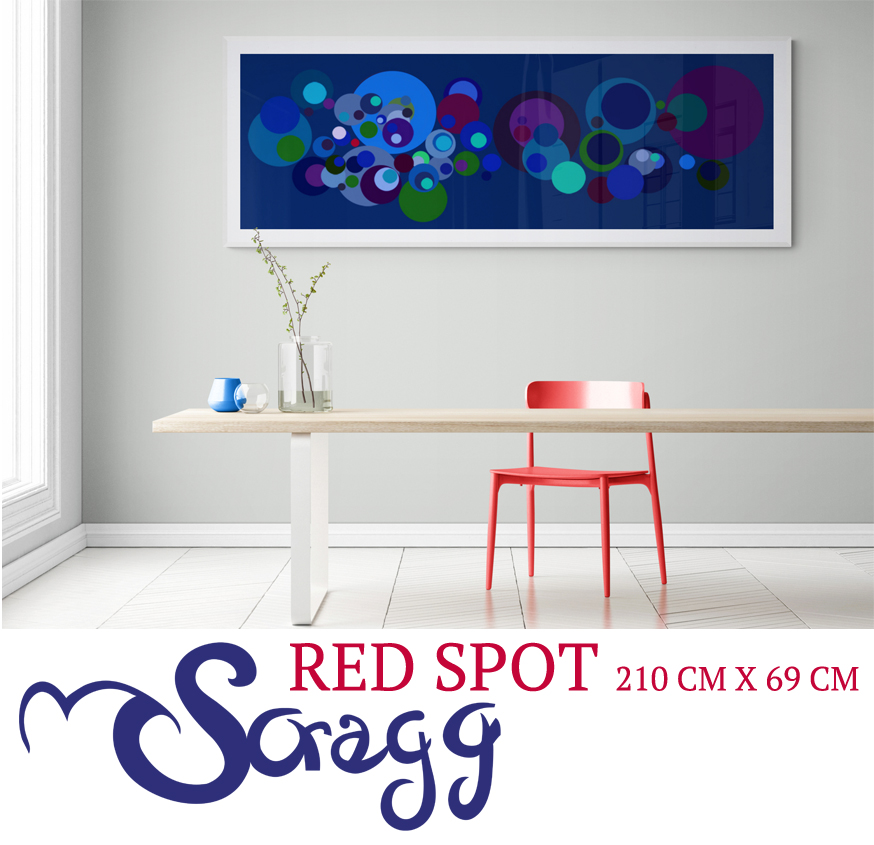 Poster Prints, Postcards, Greetings Cards available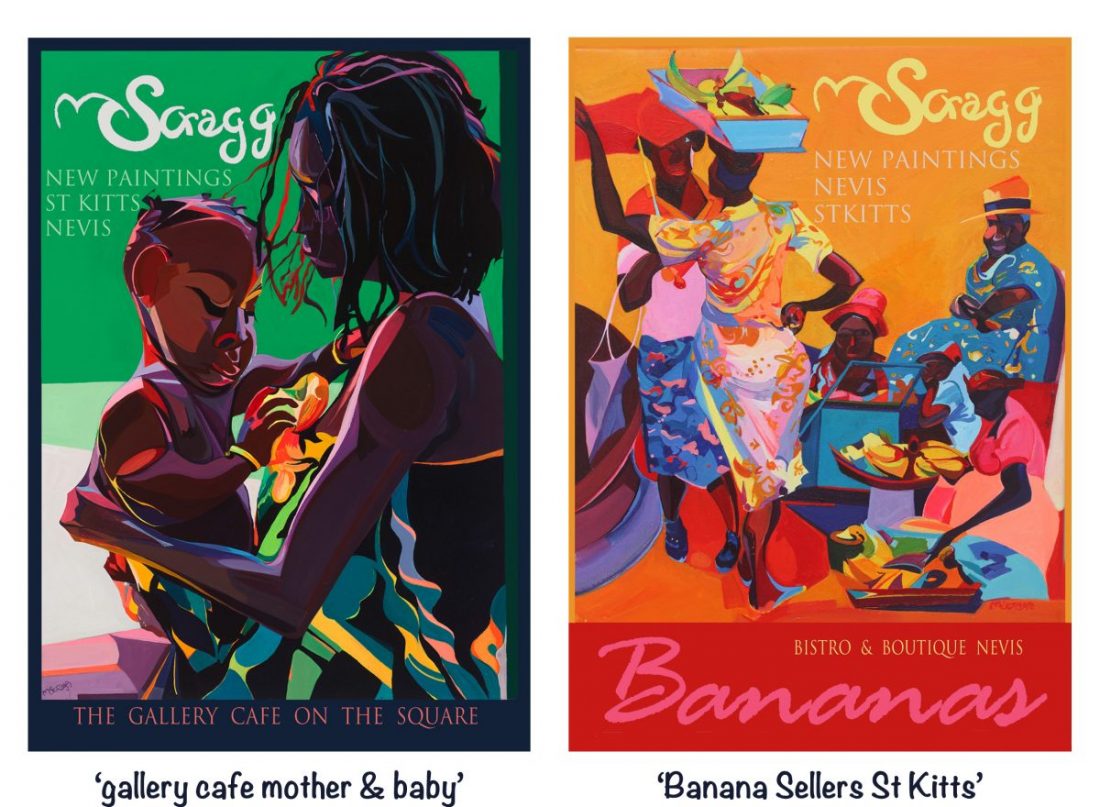 Exhibition with Albany Gallery 19th of august to 11th of September 2021. Private view on saturday 21st of August. So good to be back home in Wales.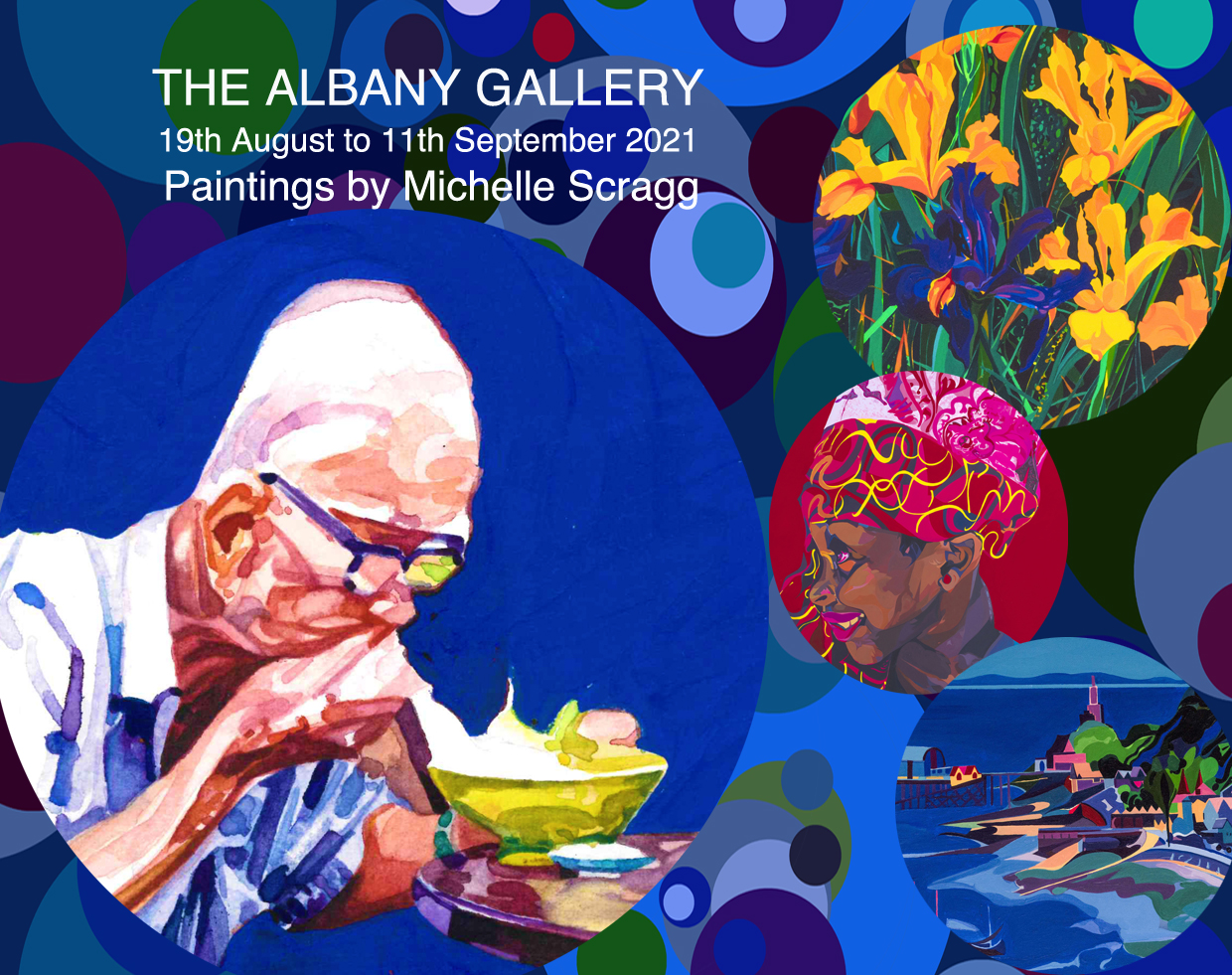 ---
In 2020 while still on Vancouver Island I did a huge canvas of Irises and summer flowers. First time I've seen pink purple irises. Perfect climate for anything that grows, especially the trees. The painting is called 'Where are the bees" 183cm x 91cm

---
While in Canada, summer 2020 the local boys let me photograph them in my ties. Sergienna wore my shirt dress and sat on re-upholstered vintage furniture, using my furnishing cotton velvet designs. Thank-you enjoyed the day!



---
2020, I found some wonderful vintage furniture on Vancouver Island. The Thrift Shops in Canada are fabulous, full of old charming furniture. I stripped them all, painted the wood and had them upholstered in my designs printed on furnishing cotton velvets….loved it!


---
Title : 'Love' Acrylic on canvas

---
Twilight Mumbles
Acrylic Canvas with grey 'Tray Frame'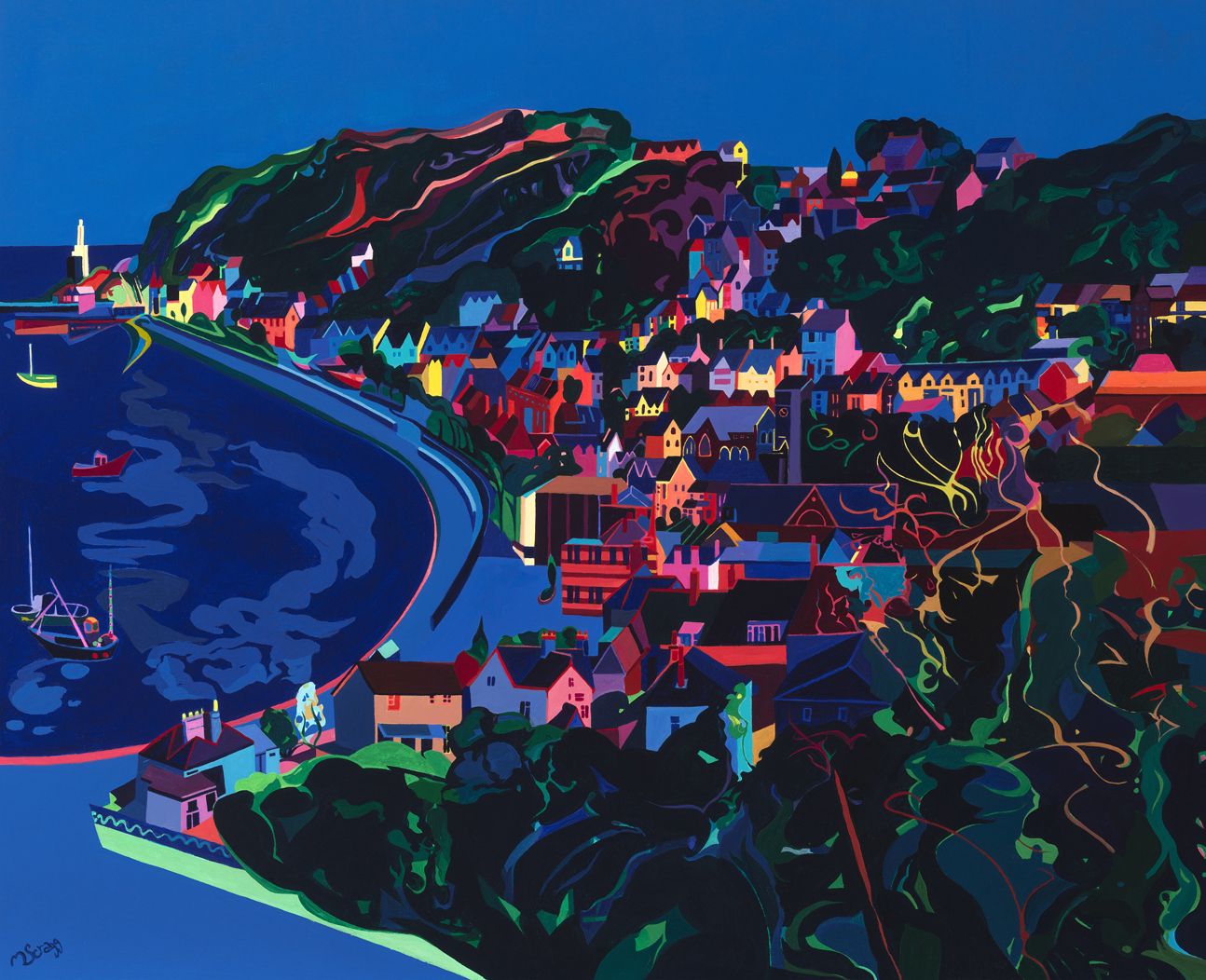 ---
Red Spot Fabric.
Reworked 'Red Spot' . Avaiable as a print, up to two meters long. Available in fabric. See above.

---
"Hiraeth Mumbles"
Completed May 2019, and sent to Wales for sale. As is the way I now work, having done a watercolour study called, 'Houses of Mumbles', I then proceed to paint this image on a large canvas in Acrylic paint, taking time to paint every colour the right tone and pitch, time consuming, creating the desired effect I want.

---


My new fabric design called 'Festival' adapted from my Caribbean painting called 'Masked Carnival' …crazy! Can't wait to see it printed.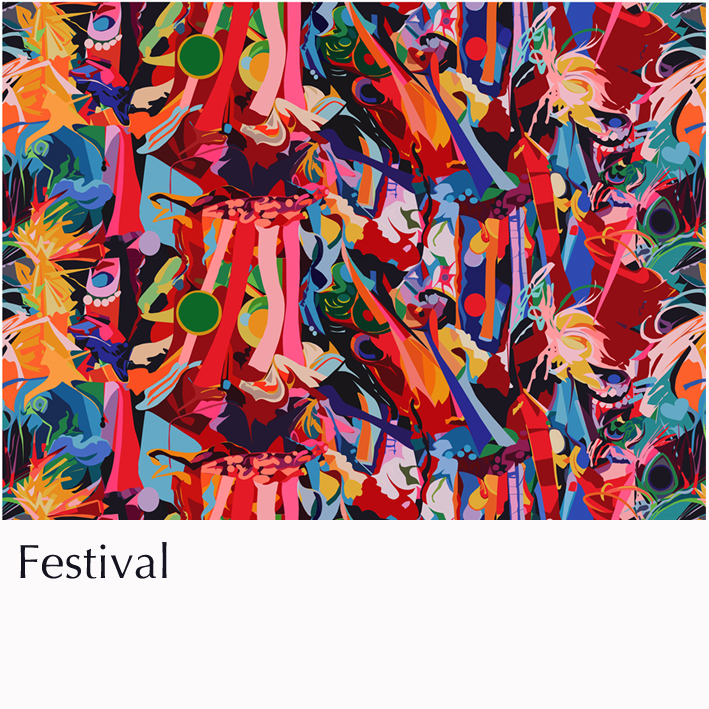 ---

New fabric design : 'Circus' A reworked abstract painting I did in watercolour some years ago. As well as to be used for furnishings, I'll have this design made into men's ties & bowties, scarves and shirts.
---
I now have two poster prints of Canada available. Hoping to paint all of Canada cities, and produce Ltd edition prints and posters.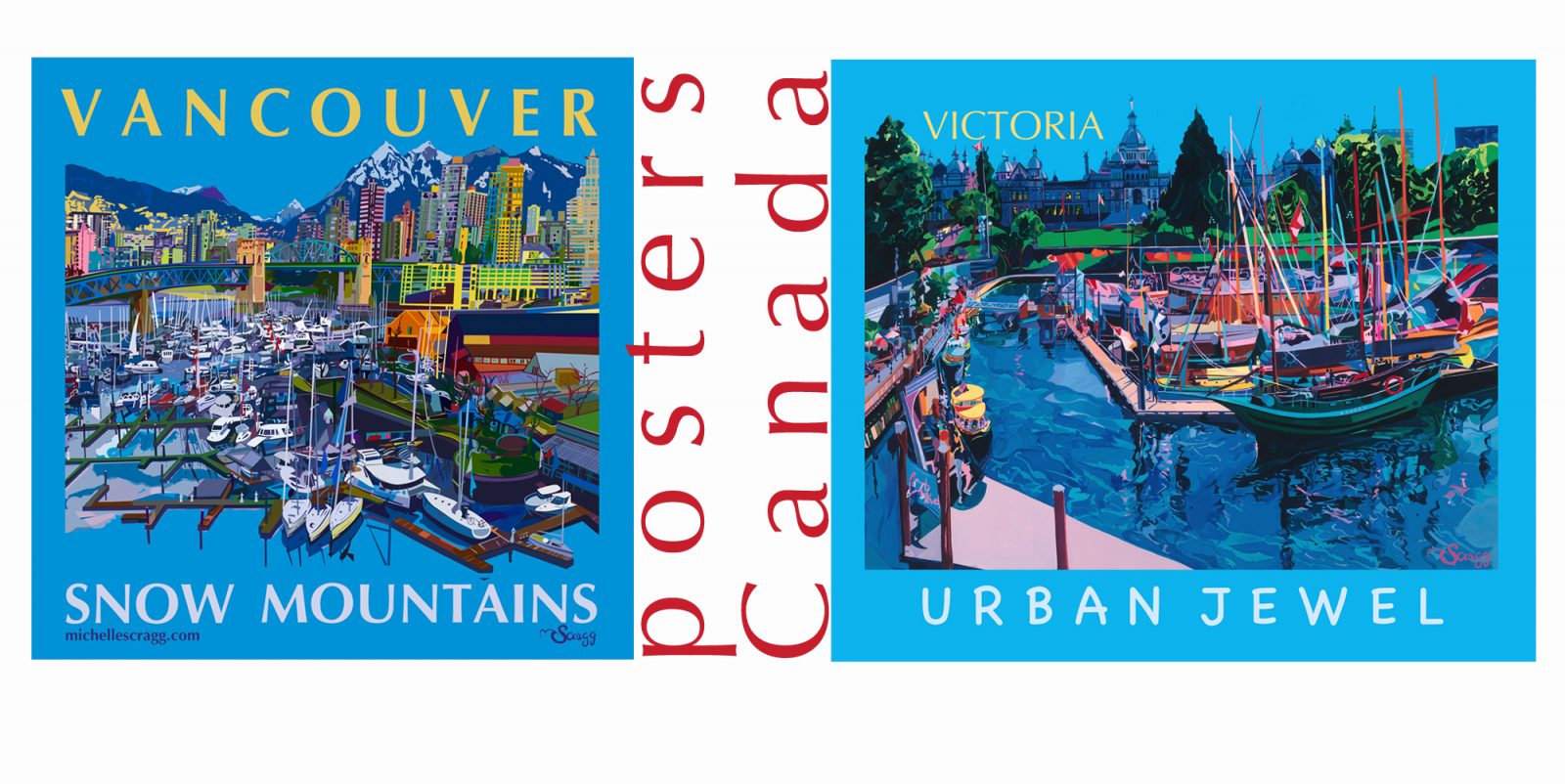 The poster can be printed at 150 cm square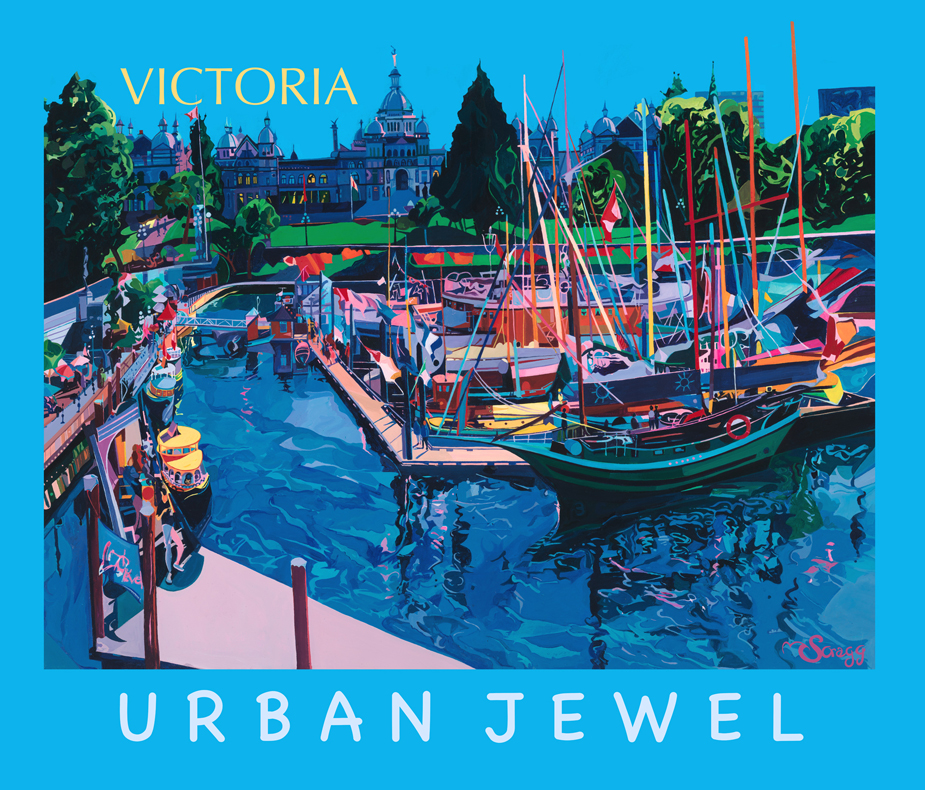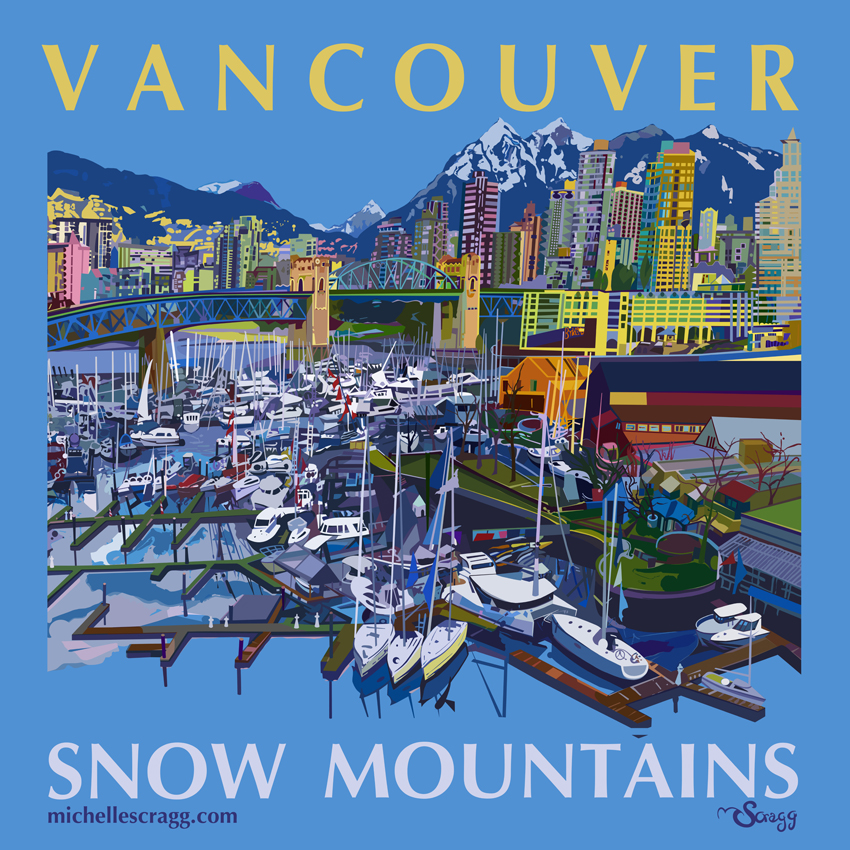 "Snow Mountians" Watercolour of Vancouver City looking at Burrard Bridge, in Watercolour (unframed 106 cm x 75 cm ). I had it photograph in a high resolution and reworked the painting using photoshop to create a poster format of the artwork, it seriously took nine weeks…good exercise though.
---

"Wee Victoria"Acrylic canvas 46cm x 35.5cm. Then large acrylic canvas: "Blue Victoria Canvas" 48″ x 36″ .
Victoria is lovely. House design here is to die for. Easy place to walk around, feels very comfortable. It is the trees here that have blown my mind they are so many of them: huge and very thick and the wildlife is abundant, even humming birds! So far so I have seen killers whales, met four bears and a racoon that stood up and offered me a boxing match!
---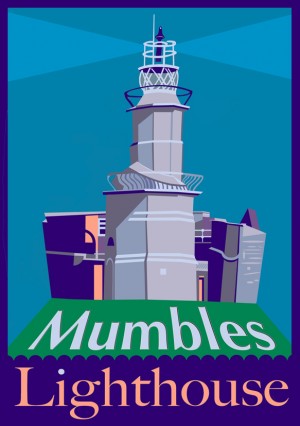 I was asked to do a logo and came up with a few ideas, this illustration I reworked on until completed as above.
Small posters and postcards, available at the Gower Gallery in Mumbles, South Wales.
---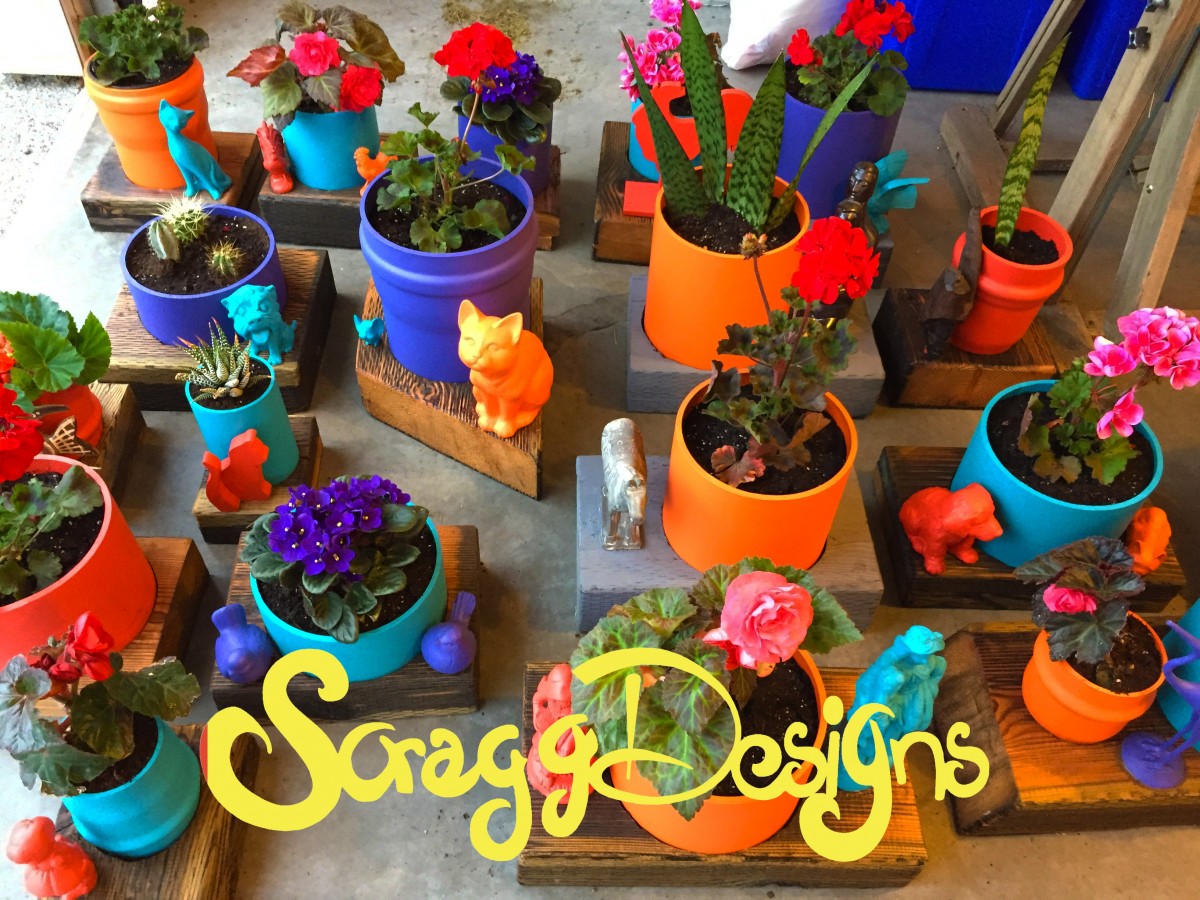 So much, building going on here on Vancouver Island, while walking the dog, I found waste plastic piping and quality wood blocks all had been thrown away, I took the 'waste' home, cut and painted using prosfessional outside paint and made these plant pots, the ornaments I bought from the thrift shops and painted those too. Instant garden!
---
And this is my Iris Canvas. Called Homage to Van Gogh.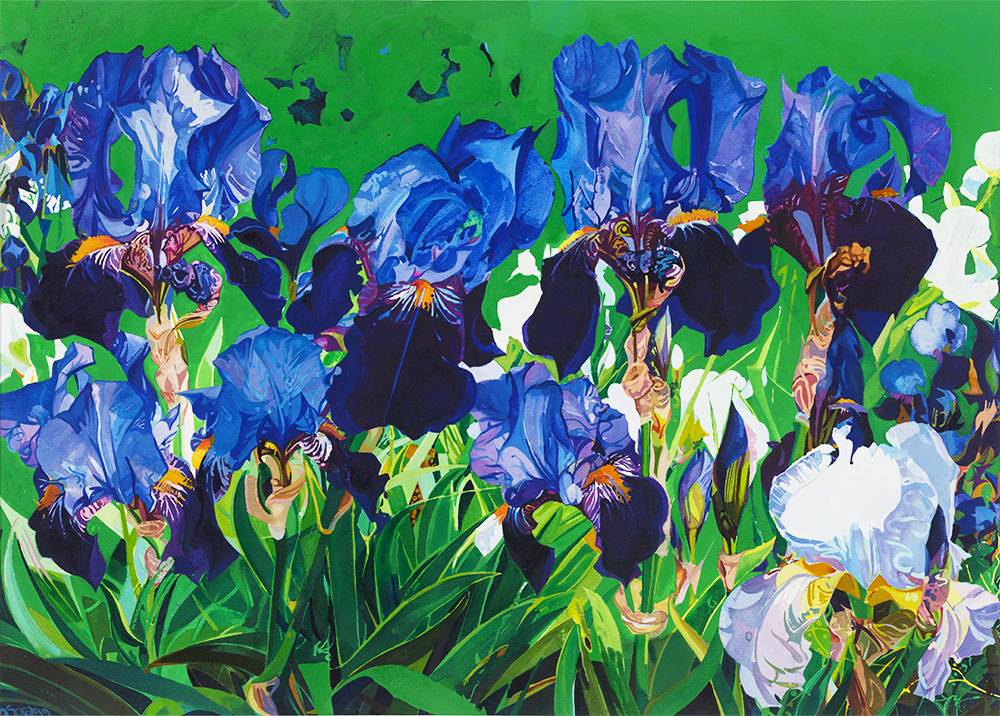 Always wanted to paint irises. Many years ago I was blown away by seeing Van Gogh's painting of Blue Irises, I vowed I would do my painting of irises, This is the watercolour.
---

Given a landscape comission of "The Tor" near Glastonbury
Wonderful garden.
The large acrylic canvas of 'The Tor garden' in situ, waiting to be hung just delivered.
---
Exhibition @ The Taliesin Swansea Unversity, a good opportunity to show off "ScraggDesigns"


Shirt Dresses are great for the hot climates

Set up "ScraggDesigns" : producing shirts, ties, bow ties, scarves, cuff banlges, ipad covers, upholstery fabric for interiors, all printed with my colourful designs.

My favourite commissions abstract: "Rolling Beneath the Waves" Acrylic on Canvas.


My recent painting: Pigtail Girl. Preparing a collection of new works, to exhibited
at Four Seasons Resort Nevis. December 2014 / January 2015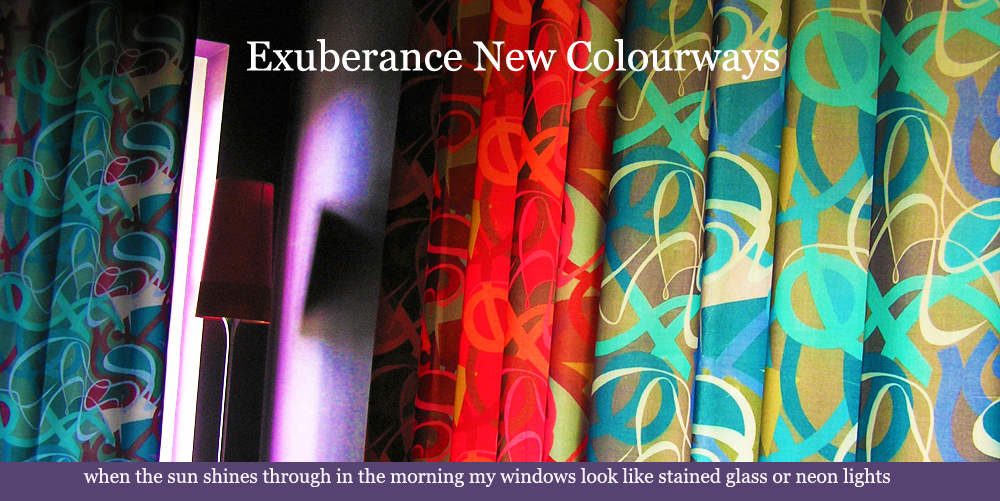 My new colourways of exuberance, cotton velvet drapes,the sunlight radiates through the fabric, giving the sensation of being in a church full of stained glass.

June 2014.
Sarah Hopkins printmaker, had a queen Anne chair upholstered with 'Party Exotic'

May 2014. Purple Floral. Watercolour

Easter 2014.
Commission of Worm's Head. Watercolour. 145cm wide.

Warm Rose. March 2014.
My latest fabric design. The customer who bought this painting also wanted a co-ordinating fabric.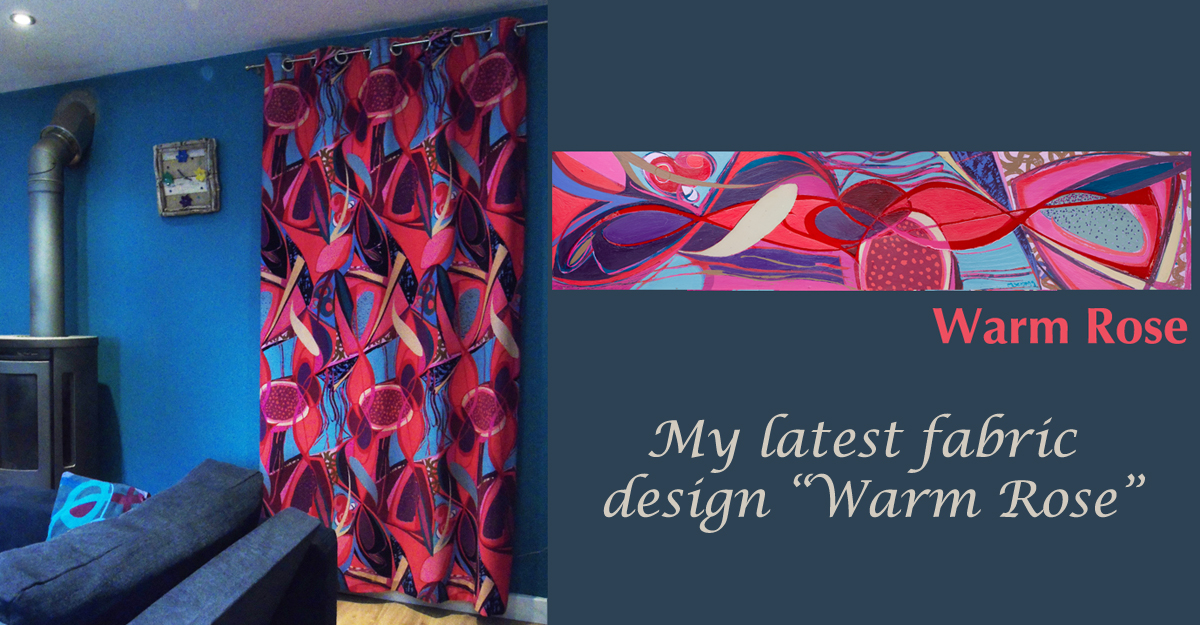 February 2014 125cm Acrylic on wood panel.

She is made of wool. by a process known as felt-making.
October 2013.
Its been three months since returning from Nevis. I find myself often thinking about this tiny island. I miss the light. On this trip as every trip I intend to paint landscape and indeed I did paint Oualie Beach from 'point to point', however the rest of my work once agin was figurative. 'mother & baby' canvas to date is a favourite work. Started with a watercolour study, then proceeded to enlarge the watercolour onto canvas, repainting the image the image using acrylic paint, carefully going over and over until each colour, hue and tone had the right pitch.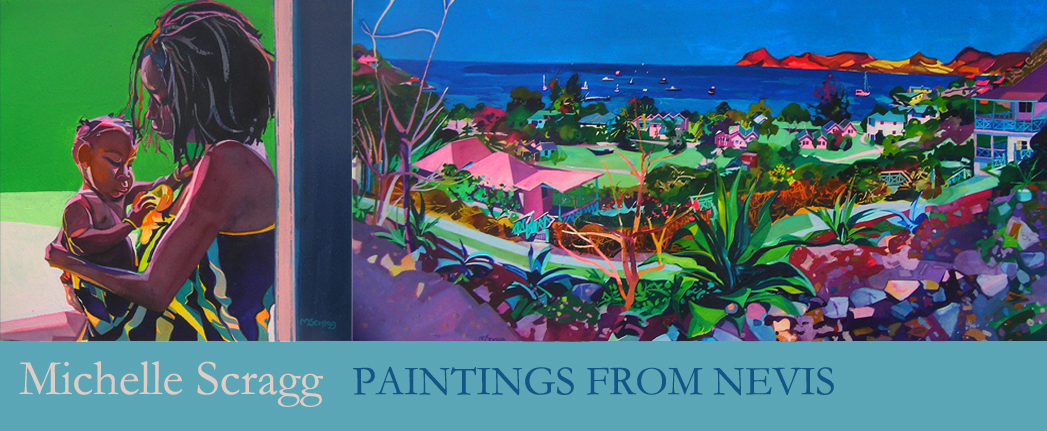 May 2013. Ruby Red Floral.
First of many large canvases to be painted. Started and completed within 3weeks. I hoping it is going to be the first of many large canvas florals to come soon.
Ruby Red 115cm x 95cm

January 2013.
Delighted to be back in Nevis where the light is wonderful. Take a look at Poor Man's Bar christmas tree in Rawlins, Gingerland, worth seeing!

February 2013 – Commisssion -Mumbles watercolour. Winter.


Moroccan Garden Commission December 2012.


Abstract commissions are my cherry on the cake. Size, format and colour are my first questions when meeting with the client. Usually I also like to see where the painting will be hung, so I can determine the client's own choice of interior design and colour. I also discuss with the client what colour story they would like to see throughout the finished artwork. Using the Pantone Colour Range, we can both understand the strength and tone of colour required.
With this commission I had to use my home as a studio and for the month of December, nothing was done except for painting. once finished it took days to clean up the mess, and even longer to catch up on domestic affairs, but I don't care, nothing else matters I simply love loosing myself when painting abstracts.



Midford Haven PURE ART Gallery August 2012. Solo Exhibition.

Easter 2012
A series of Mumbles Front paintings, had a break from abstract painting.


Solo Exhibition Swansea University: Ceri Richards Gallery. June 2011.
Fantastic spacious gallery for exhibiting Artwork.


Tony Holley offers a service, send your own fabric, and he will recover your Robert's radio.

Two differently styled Pantone chairs upholstered with 'Trapeze2' & 'Party Exotic'

Interior Design Project Icon Hairdresser

.

I totally believe a space can be transformed, by using co-ordinating colour.

Any interior space can have the wow factor without spending a lot of money, clever use of colour is the key component. This project included, Logo, Colour Scheme, designing fabric for Icon interior.


Churston Devon 2011.
In april, I was commissioned to paint a scene from a family home in Churston Devon. Britian looks lovely late April and I was not disappointed when I arrived

Denise Yapp Gallery Solo Show April 2011.
Solo exhibition at Denise Yapp Contemporary Art, Monmouth, opened in March 2011. This elegant gallery is an artist's dream, fantastic rooms for hanging paintings and the natural light floods through all the rooms.

Walcot Chapel Bath October 2010
I took the opportunity to use Walcot Chapel to show the artwork I had done while in Nevis. I rented it for a week in October 2010. Despite plugged in heaters, and numerous layers of clothing the place was extremely cold. The chapel was situated in the middle of a grave-yard, and was used as the city morgue well over a century ago. Most of the gravestones are disintergrating, I assume by age and acid rain, but those I could read, most of the people buried there are children, died of consumption. I was glad when the week had finished, despite it being a great space for exhibiting art. I will never forget how cold it was there.


Painting in Nevis 2009 / 2010.
Took off to Nevis to spend a year painting, preparing work, for a solo exhibition arranged in Monmouth, Wales at 'Denise Yapp Contemporary Art' early 2011. Fantastic time, no phone ringing, perfect light and so much space to work in.

New works.
Came home with a portfolio full of finished work. I felt energised, bursting with ideas.

Book published april 2009.

Book published, April 2009. Art journalist Robin Capon writes about my work: watercolour techniques and design process. Book is titled:
'Michelle Scragg Design And Colour in Watercolour. '
My own Gallery – 'Sitting Colour', Walcot St, Bath.
Inside my gallery : Sitting Colour, Walcot Street, Bath.


I moved to Bath to open studio/gallery at 128 Walcot Street. A show case of colourful cityscapes, vivid abstracts to bold designs printed onto rich velvet and silk, onto which I had pieces of chosen furniture upholstered. All my work shares a common theme,…. vibrant powerful colour throughout.
Selection of items for sale at my gallery in Bath. Sitting Colour. Walcot Street. Bath. 2009 to 2011.

Celf Gallery. Mumbles. 2002 to 2007.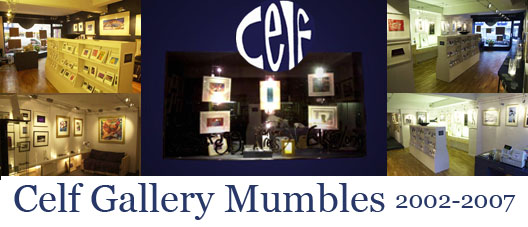 Moved from London to live and set up new, contemporary, gallery called Celf, in Mumbles, West Wales. From 2002-2007. Absolutely loved having the premises.I worked along- side glass, designer Caroline Rees. The gallery was used as a platform to sell our work. After a 5yr lease, I made the decision to open a new gallery in Walcot St in Bath, called 'Sitting Colour'. My painting compositions were moving towards abstraction, which I use to develop vibrant vibrant design.


Gallery items.

Scraves, ceramics, paintings, Glass, jewellery, furniture.